Stretching six miles from the bottom to the top of St Louis, and featuring 30 brand new art commissions, along with guided tours, workshops and school field trips, the second Counterpublic art triennial is a vast undertaking that aims to grapple with some sizable questions and redress historical wrongs.
"It was an exciting challenge," said James McAnally, co-founder of Counterpublic. "In St Louis, the threads of change loom really large, and seeing that grassroots energy of this city, it sparked a lot of excitement. St Louis is really ripe for this kind of boundary-pushing."
Inaugurated in 2019, Counterpublic aims to be a regular reckoning with many of the questions that underlie St Louis's – and by extension America's – history. The first Counterpublic placed itself deep into the St Louis community, operating in neighborhood sites like a tea shop, yoga studio, punk club, convenience store, Buddhist temple and Mexican panadería. It was lauded both for seamlessly fusing its art interventions into the local cultures of its sites and for its steadfast dedication to community engagement. "It's a really unique experience, to see that density and range of newly commissioned artworks," said McAnally.
For the second Counterpublic, running through 15 July, McAnally, and the numerous curators who have worked alongside him on this huge project, placed a high value on a continued public focus. "The planning started with a process of listening – a year-long community engagement process where we met with some 800 people living in the neighborhoods. We asked these people what was important to them. What we heard really informed the exhibition – we heard a lot about public memory, people feeling like the histories of their own neighborhood were not being presented and seen. There was also a lot about reckoning around monuments nationwide, and just thinking about where is history held, where is it kept."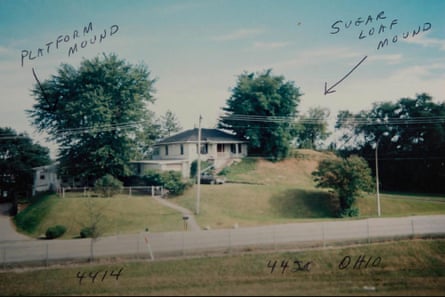 Counterpublic's ambitions are to get outside of the traditional structures of the art world and to exhibit in spaces that feel crucial to diverse communities. Its goals to bring new forms of relevance to art are well-stated in the show's catalog, where McAnally offers these passionate words. "This is an exhibition emerging from frustration at the limitations of an anemic art world met with concrete possibilities for more liveable worlds experienced in grassroots organizing in St Louis, as well as a deep care for a place I have committed much of my adult life to seeing flourish, despite witnessing its legacies of harm, fragmentation, and structural inequities firsthand. In envisioning the exhibition, I aimed for something altogether different – a triennial that allied itself with generational, cultural, economic, and civic change; a post-pandemic, post-uprising exhibition demanding that we, as arts workers and artists, do more to repair our broken world."
One act of reckoning with history that headlines Counterpublic are efforts to rematriate the last remaining historic mound of the Osage Nation. One of numerous such sacred sites constructed by the Osage between 800 and 1450 AD, this last mound now sits on a quiet residential street beneath two homes.
Although the Osage Nation did purchase roughly one-third of the mound in 2008, McAnally shared that this was not enough to permit the kind of preservation and archaeological work that such a site requires. As a part of Counterpublic, McAnally and his colleagues have made formal offers to transfer the two homes currently sitting on the mound. "As a longtime resident of St Louis, I've been aware of this mound and the larger history of dozens of mounds that have been destroyed. It was a site that I passed by weekly. It keeps the work quite grounded because it's in service to something larger than a three-month exhibition."
As a part of Counterpublic, the "public secret society" New Red Order, which has presented art installations nationwide in an effort to reimagine futures for Native American peoples, will screen a video documenting legal efforts to rematriate the mound. An accompanying art installation by the Osage artist Anita Fields will surround the mound, and in an adjoining neighborhood, the Native American artist Jaune Quick-to-See Smith will display an enormous map painting interfacing with streets named for Indigenous tribes and leaders and their intersections with streets named for American states.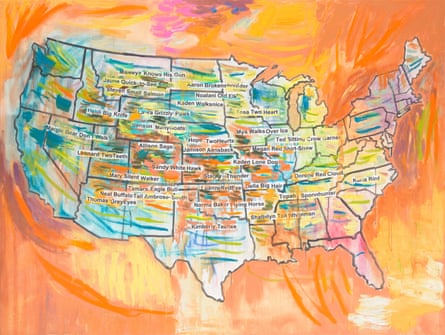 Opposite the Osage mound, at Counterpublic's other end, stands the Griot Museum of Black History, a 25-year-old community museum which McAnally was drawn to because it is so deeply rooted in the neighborhood. "It's holding all these Black histories of St Louis. With this site, the question was how to build capacity. They wanted something permanent and public that really celebrated their place in the city." With these goals in mind, Counterpublic commissioned prominent Black architect David Adjaye to create his first-ever permanent public artwork – a massive earthwork that will take shape over the course of Counterpublic and that will come with its own two-year fellowship at the Griot museum in order to conserve and contextualize the piece. "The David Adjaye piece is being built in public, on site. He's bringing this traditional African building process and constructing it in public view, and I think that's a really exciting invitation for people.
Other Counterpublic works will be more ephemeral. For instance, the Nigerian-American musicians Mendi + Keith Obadike's Slow Drag will comprise dozens of cars slowly navigating through St Louis while playing various remixes of an original piece. "They're really thinking about the distribution of sound and immersiveness throughout place. I've never heard anything like it, I've never experienced anything like it – it'll be exciting to get to experience it for the first time alongside everybody else." Elsewhere, the Native American artist Cannupa Hanska Luger offers an augmented reality piece – "it will hover in the St Louis landscape and will be visible throughout the exhibition footprint, figures dancing along the horizon line of the city."
Counterpublic's goal is to think on long-term timescales and to imagine futures that do not currently exist in the public's mind. "I like that it's art going beyond itself," said McAnally. It brings something concrete and focused to be thinking generationally. Our goal is to reimagine civic infrastructures toward generational change."
A big part of this generational thinking is reckoning with St Louis's place in American history, and how it is uniquely poised to think through questions of national historic wrongs. "St Louis is situated right in the center of the US – in the 18th century it was even proposed as the nation's capital, as this hinge between the east and the west. We're interested in the ways it has been an epicenter of American culture and development in both good and bad. St Louis's possibilities and issues are really American possibilities and issues. It poses fundamentally American questions. We are really trying to think through a lens of healing and repair. We are really intending to try to do something new."
Counterpublic 2023 is running in and around St Louis until 15 July
This content was originally published here.